Don't Overpay For Cables!
Don't Overpay For Cables!
Cables are a pain. We understand this pain as being a IT support company there's no way we can really avoid them. They lay about everywhere, cost a bomb, and you can never find the one you are looking for. The multi-coloured aspect should theoretically help locating the right cable but instead it gives us a mess of colour and confusion.
Until we live in a Jetsons-style wireless world (and we're getting close, Engineer Alex has bought a wireless phone charger for his desk) there's not much we can do about their continued existence. Also, if we lived in a wireless world, how would we plug it out and plug it in again when it stopped working? One of Lucidica's mantras is 'buy cheap, buy twice', but that doesn't mean you have to re-mortgage your house in order to watch Netflix on your TV.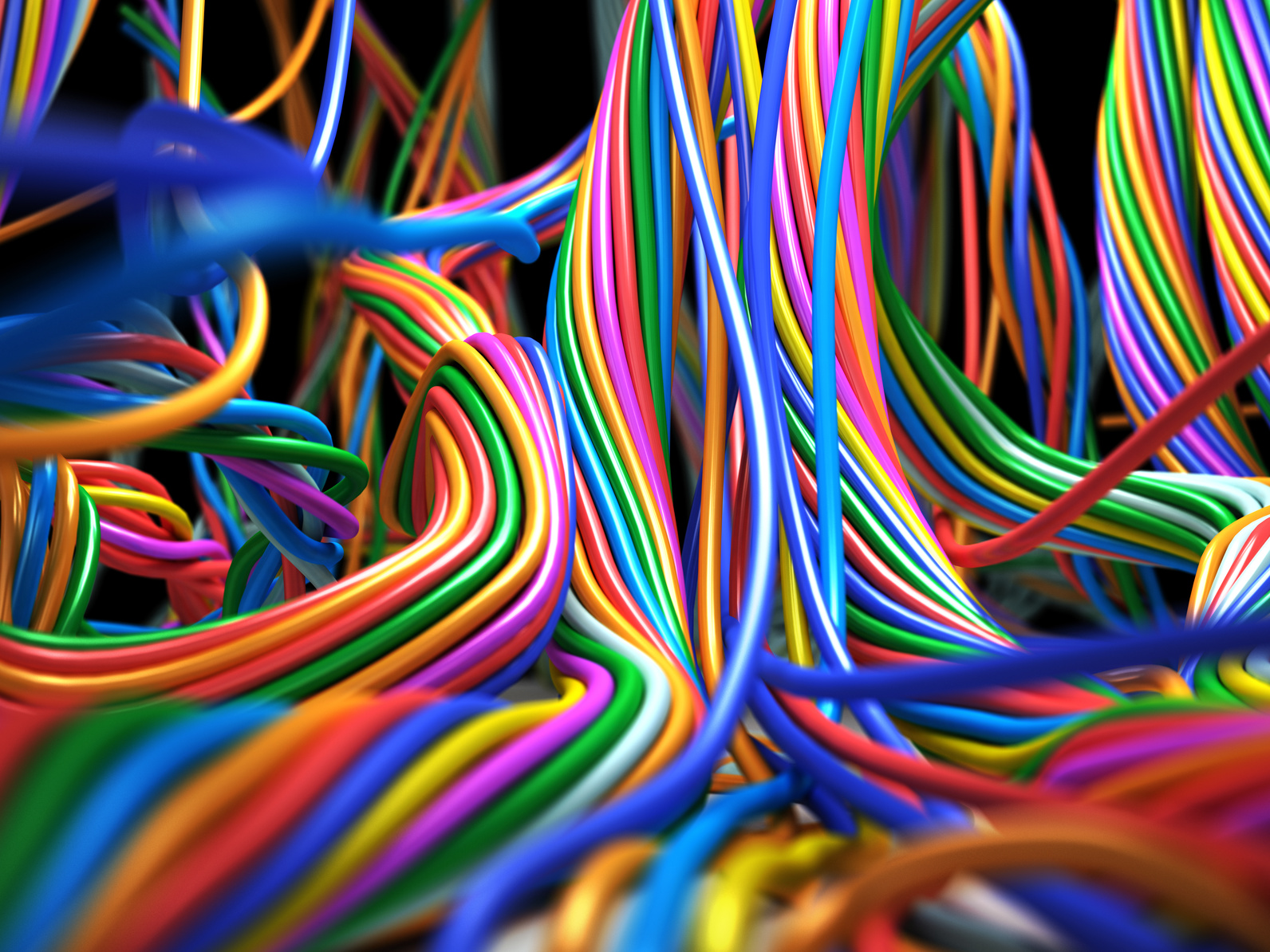 HDMI Cables
Some companies charge huge prices for cables with flashy features that in real, everyday use, don't make a difference. One key culprit is HDMI cables. For those that don't know (or usually care), these are the cables you use to plug your laptop, DVD player, games console or other devices into your TV or projector. Looking around the high street you'll see cables of varying length at around £20, sometimes reaching as high as £50 or £60. Look online and that range grows massively from as low as £1 to as high as an incredible £11,000+. But does paying as much as you'd pay for a holiday actually make a difference?
Short answer? Not really.
HDMI is a digital signal which, unlike the SCART cables of old, isn't as susceptible to interference. Technically speaking, over long distances (5m or more) a poorly made cable can result in a degraded signal. But if you're just plugging your Blu-Ray player to your adjacent TV then HDMI is HDMI – any cable will do. We still wouldn't recommend the cheapest you can find, you don't want it falling in two when you get home, but there's no need to overpay.
So why are the prices so ridiculously variable, and why will the sales assistant insist that you have to spend at least £40? Partly thanks to licensing fees to put the HDMI logo on it, partly because in massive home cinema setups it's worth paying a bit more but mostly because they can get away with it.
USB Charges
Another example is USB chargers. Thanks to cooperation between phone manufacturers, and the European Commission, since 2012 the standard charger for most mobile phones is micro-USB (except for Apple). Yet still, buying a replacement when your free one gets tattered and stops working can be pricey.
However, the point of standardisation was to eliminate the need for niche chargers. So if your phone (or other relatively modern micro-USB charged device) needs a charge, you can pick up any USB charger and cable and give it some juice. In some cases, if the charger is designed for smaller devices, it might take a bit longer than normal, but at least it's something. Except if you've got an iPhone though… then you need to talk to Apple or gamble on a cheap Chinese knock-off.
Google It!
It's not hard to avoid being ripped off when it comes to buying cables. Our advice would be to do your research before you buy. Sweep Google for tips on whether or not it's worth putting a bit more money into a cable, and always check online when buying. It's tempting to have it now from a store, but if it'll save you £20 to buy it online it might be worth the wait. Want to know what Amazons bestselling cables are and don't have enough time to research yourself? Below we have created 5 tables of what we consider the most popular cables to buy and have listed Amazons bestselling makes: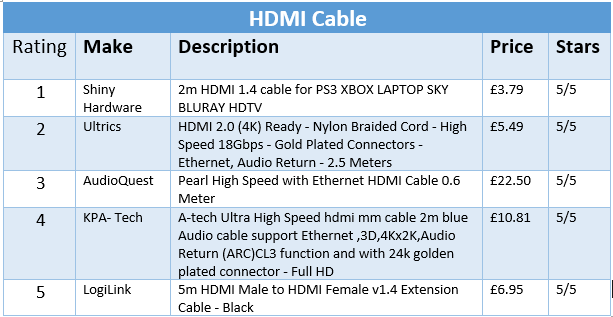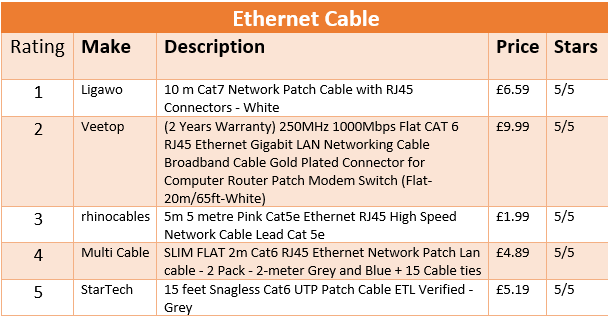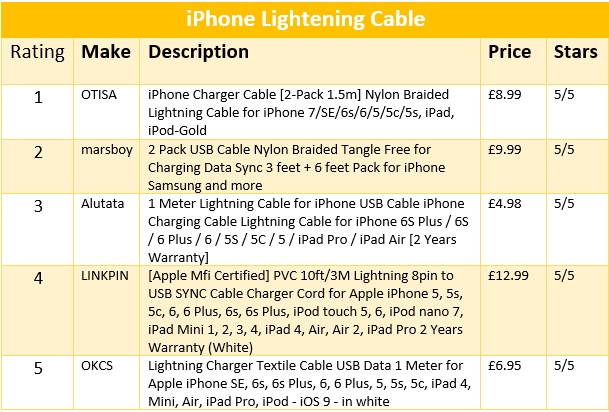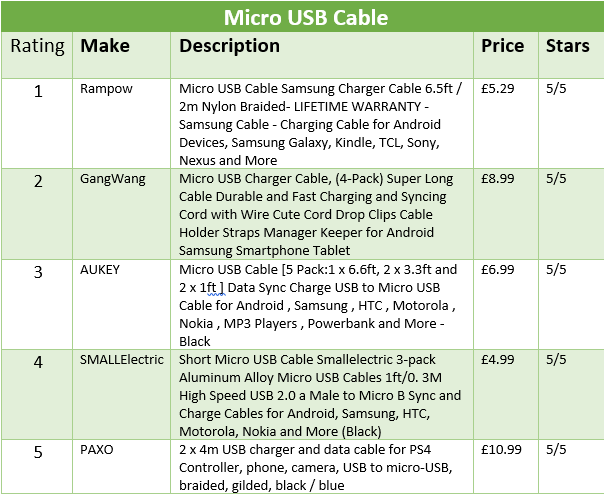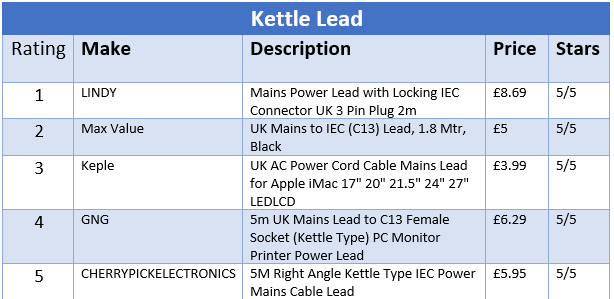 I hope this has put cable prices in perspective and made you think twice before you shell out 40 quid on a standard HDMI cable! If you need any help on specific equipment, including cables, to buy for your company, contact us and we will advise you on what we think would be the best option and even set it up for you!
Lucidica provide IT support within London