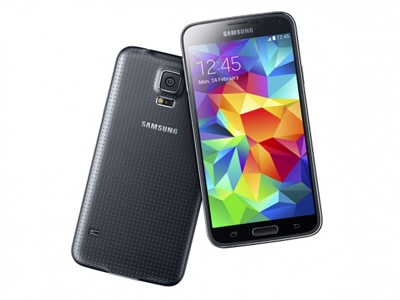 Samsung S5 is the Apple 5S
Samsung S5 is the Apple 5S
Earlier this week at Mobile World Congress in Barcelona, some of the biggest tech giants unveiled their latest smartphone offerings. So here's a look at some of the mobile devices you'll soon be able to get your techie hands on.
Samsung Galaxy S5
The anticipation of the Samsung Galaxy S5 has certainly been building for a while and as Samsung is sort of the face of Android, it needs to impress, especially since it faces stiff competition now more than ever. The S5, set to launch in April, doesn't really offer anything ground breaking but instead has a few good updates. Basically, Samsung has done an Apple.
New features include dustproof and waterproof technology, a 5.1inch full HD super AMOLED screen, shoots 4k video with its 16mp camera, fingerprint technology and a heart rate monitor built in.
The back casing, which previously was ugly plastic, is now ugly patterned plastic. It comes in four colours – black, white, blue and gold.
So while there's nothing really innovative about this phone, the updates do improve upon the greatness of the Galaxy S4. So Samsung has managed to cling to its title of 'king of Android' for now.
Nokia X
It wasn't a surprise when Nokia revealed its new Android phones the X and X+, since the internet was rife with rumours about Nokia making a Windows-less phone. The interface actually looks a lot like a Windows phone, which was no coincidence.
But Nokia doesn't use the Android we're used to. Instead it runs an open-source version of Android, and comes with Nokia alternatives for maps and has its own app store. It's basically done an Amazon.
The phone has a 4inch display, a 4MP camera, expandable storage and a 1GHZ Qualcomm Snapdragon dual core processor. There's nothing really amazing about this phone but that's because it's not aimed at the western market at all. It's meant to be a low-end phone for those new to smartphones. In true Nokia fashion, the handset will come in a variety of bright colours.
Sony Xperia Z2
Probably the most impressive product to come out of Mobile World Congress was Sony's Xperia Z2. It has a 20.7mp camera that shoots 4k. It has a Qualcomm Snapdragon 801 processor – a 2.3GHz quad-core Krait CPU – as well as 4G LTE connectivity, NFC, 3GB of RAM and a 3200mAh battery.
The device is waterproof, just like its predecessor, and is superbly thin at a skinny 8.2mm. Sony is close to knocking Samsung off its throne. This one is our favourite. It's not a smartphone, it's a superphone.
Samsung Gear 2 & Gear 2 Neo
Samsung decided that its Galaxy Gear needed an upgrade. So it dropped the 'Galaxy' part, dropped Android and came up with the Gear 2 (apart from being slightly lighter and camera-less, the Neo is the same). The watches run Tizen, Samsung's own operating system, which really helps when it comes to battery life. The Gear 2 can last 2-3 days with even regular use. There's a super AMOLED 1.63inch screen and a heavy focus on fitness with a built-in heart monitor, a sleep monitor and plethora of fitness apps. There's 4GB internal memory and it will be available in a range of colours.
HTC Desire 816
This phone is not the successor to the HTC One – that's coming later in the year – instead, the Desire 816 is a mid-range smartphone but comes with some decent specs. It's got a large 5.5inch screen, 1.5GB RAM, 8GB internal (but expandable) storage, NFC and 4G capabilities. The camera is an impressive 13MP and shoots video in full 1080p HD. All in all, for a mid-range smartphone it's actually pretty good.