The Technology Lovers Christmas Wish List
The Technology Lovers Christmas Wish List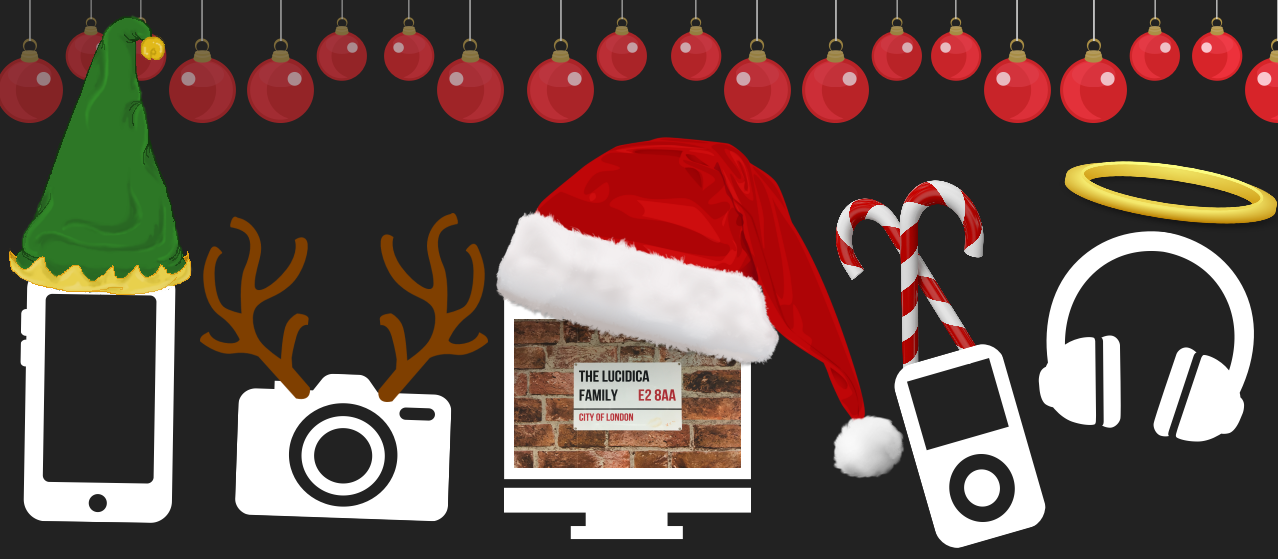 It's that time of the year. The period of eggnog, Christmas parties and wish lists of course. Whether those wish lists include the new iPhone, a fancy new alarm clock, the next best camera or just a funky gadget that will entertain you for the whole of boxing day- we have you covered. I have searched through lists of the best tech products for 2016, got personal recommendations from our engineers at Lucidica and thought what I would love to be surprised with this Christmas. This list includes presents for all budgets, whether a secret Santa or a showstopper gift for that person you want to impress.
So let's start with the stocking fillers, diverging from the standard satsuma of course…
The Entertaining Choice:
Luckies of London Smartphone Projector
RRP: £10
Perhaps not the highest tech piece of kit, this cardboard smartphone projector has a glass lense that can transform any piece of wall into a cinema. It has a silicone grip inside that will hold your phone securely in place throughout the duration of the film. This affordable bit of fun is compatible with iOS and Android and also fits phones of a maximum size of 8cm x 14.5cm and 3.2 x 5.7 inches. If you are not already reaching into your pocket for that CCV number it has 8 magnification lens to make your cinema screen as big as necessary for your audience. Anyone got The Grinch on their iPhone?
The Smart Choice:
Nomad Key for iPhone
RRP: £15
Ever been caught short on battery saving mode with little to no hope of seeing a charger before 1%? I know I have. Battery packs or chargers in your bag are always a safe bet until you leave it plugged in that one time and it is never to be seen again. Nomad key gives you the charging port and the USB adaptability all on a keyring. It makes charging as much of a priority as opening your front door. It is available with multiple different charging fixtures such as Android and iPhone. When connected to your computer it also charges and synchronizes your media making it a useful work device. Definitely the handiest stocking filler on the list.
The multi-taskers choice:
Adjustable USB Gadget Mini LED Light USB Fan Clock High
RRP: £20
Ever wondered why no one had created a portable fan that also works as a clock? Me too, well until now! This fan plugs into a USB port with the LED clock face appearing on spinning blades. Is has a low power consumption power-saving design which displays hours, minutes and seconds hands. The neck of the fan is also adjustable meaning you can alter the breeze to whichever way you desire. The fanning stops whenever you unplug the USB or turn off the computer but the clock keeps time even after making this handy clock fan the perfect gift for the office.
If none of those tickle your fancy not to worry, we have so much more to offer for a variety of recipients…
For the fashion lovers:
A Bamboo Keyboard and Mouse
RRP: £40
Do you want to look stylish whilst working? Do you want your office accessories to shine compared to your colleagues? If you are already considering what it feels like to type on bamboo look no further. This handcrafted, responsibly sourced mouse and keyboard set makes the perfect addition to your desktop. Its solid construction and high durability makes it one of the biggest catches of 2016. All you have to do is insert the batteries and the wireless USB connector and you are ready to go. It is compatible with all Windows systems and is the traditional QWERTY keyboard. Buy this and make everyone in the office jealous.
For the budding documenters out there:
360fly 4k action camera
RRP: £400
A pricey option but well worth it as a long-time investment, this 360-degree action camera makes catching that perfect shot from whatever angle a lot easier. It can capture pictures and videos with ease and from first person point of view modes making any frame possible. It is an impressive 16-megapixel camera with a resolution of 2880 x 2880 pixels. It also has dustproof, shockproof and water resistant features making it usable in all conditions. The 64GB of internal memory and strong battery life makes it an easy use with minimum hassle. This camera is the ultimate gift allowing the user to capture immersive footage of professional quality. A great present for those who wish to film without restrictions.
For those of us who just need a bit of fitness inspiration:
Fitbit Flex Wireless Activity Tracker and Sleep Wristband
RRP: £75
By now you must have come across the Fitbit. A bracelet that can track your exercise and sleep routine giving you tips and reminders about how to reach your own personal targets. Handy right? These personal targets are achievable with the LED light up highlighting your progression throughout the day and tips on how to make your goals. This water resistant and stylish wristband has a 5-day battery life even with a wireless feature. If the style is not to your fancy, you can also personalise it with Flex accessories. On top of all of this you can automatically document your steps taken, distance travelled and calories burned on your devices and compare with your Fitbit friends. This is the perfect gift for those who want exercise to be a fun, competitive inclusive task, not a chore.
For the ambiance lovers:
Flux Bluetooth Smart LED Light Bulb
RRP: £38
This is a bit of a wild card. A lightbulb that not only can change colour depending on personal preference but also change colour to the music. You can choose from over 16 million colours allowing you to match the lighting to the occasion. With that, you can also schedule a light colour change or simply a time when you want to turn them on or off eradicating the fight of who has to get out of bed to turn the light off. If you choose to synchronize your bulb to the music it will change colours to the tempo of the music affecting the mood of the room, maximising the ambiance. All of this is incredibly easy to do via Bluetooth to apps on your phone and the lightbulb even screws into the majority of current standard fixtures.
For those who wish to use the power of the voice:
Amazon Echo Dot
RRP: £50
The Amazon Echo Dot is the talk of technology lovers right now. Many have agreed that this is the closest thing to a robot on the market who listens to your conversations and commands and responds accordingly. The Dot uses Alexa to play music, control smart devices, provide general information, read the news and more. You can connect it to speakers or headphones allowing you to play music through apps like Amazon music (of course) and Spotify. It has a built-in speaker allowing it to double up as a clock or an assistant in the kitchen. It will become your ears and hands to document, research and perform anything you require it to. A present for those wanting to try the latest technology which could easily turn into a staple homeware item.
For all of us that need a bit of encouragement to wake up:
Ruggie Alarm Clock
RRP £50
So we have gone through an Alarm clock revolution in recent years. From those that monitor your sleep patterns to those that gradually light up with sunrise, there is no end to the range of alarm clocks on the market. However, Ruggie wanted more, one that maybe couldn't be snoozed so easily. The only way you can stop the alarm is by simply standing on the Ruggie Mat with two feet on the floor. It is an incredibly soft memory foam mattresses that takes no prisoners, meaning you physically have to get out of bed to please your alarm clock. On top of that, you can set Ruggie to say motivational quotes after you get up making your alarm put you In a good mood. All you need is batteries and a floor to put it on and you are good to go!
For the music listeners who want to escape their surroundings:
Sennheiser Momentum headphones
RRP: £200
This is definitely a gift for those who know there Bose from their Beats. These around the ear headphones have stereo sound all across the audible range due to Sennheisers 18 ohm high-end transducers. The high-definition aptX codec picks up every audio sound in even finer detail playing everything to the highest standard. The closed ear design makes them the greatest buy for noise isolation, deleting background sound entirely. However, the design is not just musically appealing. The headset is ultra-light and padded making them a comfortable wear. While the headband is robust and foldable adding to their portability. These headphones make listening to music, not just a background task but a complete user experience, a perfect gift for those who want to immerse themselves in music.
Well, there we have it. I hope this list gives you some inspiration for your own Christmas list if not help you buy for others. Shocked that your favourite technology hasn't featured on there? Send us a message here and we will review it in our next blog.
Oh, and Merry Christmas from Lucidica!