Lucidica's Secret to Internal Marketing
Lucidica's Secret to Internal Marketing
So many businesses focus on making customers and potential clients trust and like them enough to purchase a product or a service from them. But what about your actual employees? Don't they need some marketing of their own to make them truly invested in the company and the company's goals?
Well, we think they do. Yes, we get that all employees get a salary and in some cases, that is enough to make them invested in a company. However, we have taken the approach that all companies can provide our employees with a salary so on top of that we want to have something that motivates the staff and makes them feel part of the Lucidican family.
Internal Marketing in General
For any company, internal marketing is crucial from both employee and employer side.
Employee:
More motivated
Better work ethic
Higher job satisfaction
Feel part of a team
Build rapport with co-workers
Employer:
Better communication within your team
A more motivated and invested team
Empowered employees
A customer-orientated workforce
Higher staff retention rate (less money on recruitment)
Why do we think it is necessary?
At Lucidica, because we are an IT support company, a lot of our team is made up of engineers. But the way our team works means that sales and marketing frequently need help from the engineers (and sometimes it is the other way round!). This is why everyone needs to know each other and get on because as a team of just over 20, no one wants to not know the person who sits across from them. This was part of the reason we moved to hot desking, (see here) as we wanted to make sure everyone sat next to someone different every day.
However, my favourite internal marketing, team building exercise is something else.
Welcome, the First Friday.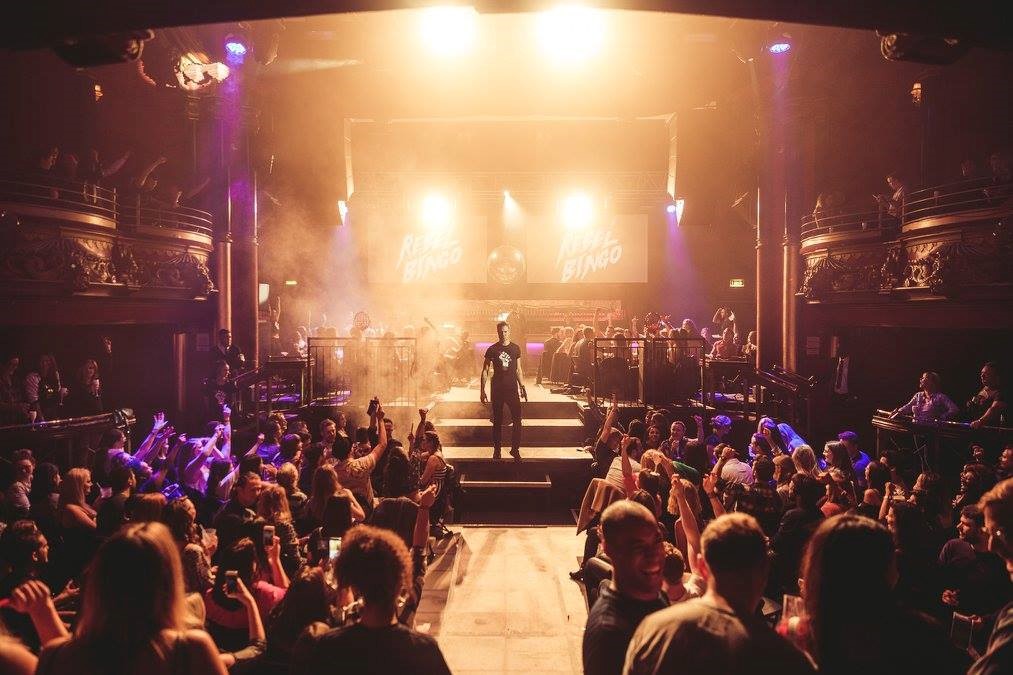 Rebel Bingo @ Clapham Junction- http://rebelbingo.com/
The first Friday is where the whole team is invited out to an event in London on every first Friday of the month (as the title suggests). To organise this, we have a fun manager. They are in control of deciding where we go, organising everyone and choosing the food- perhaps the trickiest part. This is a legitimate & paid role. Being the democracy we are, you are elected Fun Manager by the rest of the team for a 3-month term. There is an official job description with real responsibilities, here is a snippet from the JD describing the role;
'You will work effectively to coordinate, execute & manage the fun and enjoyment aspects of the business. These aspects are defined in the following functions; Fun, Joy, laughter, entertainment, smiles and relevant administration. The responsibility of the Fun Manager is to make sure the day to day fun levels in the office are at a suitable level and everyone is involved in team activities, along with ensuring all of the administration of fun is done effectively.'
The official outfit of the fun manager is displayed below.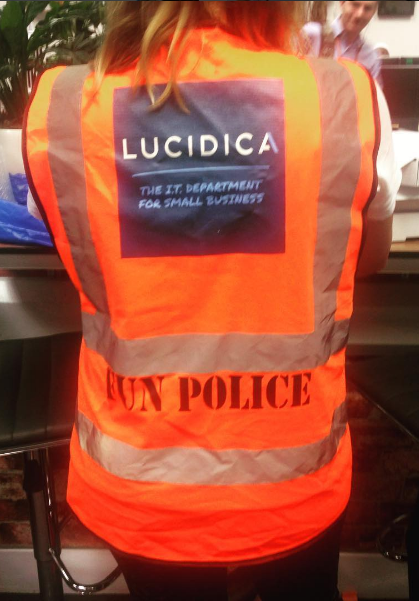 These events have been everything from Rebel Bingo (google it!) to cycling around London on a pedibus. Luckily as our office is in Shoreditch, there is never a shortage of things to do in the area or in London generally. There is always some new event, night out or random concept that someone wanted to try out. On top of that, dinner is included at the office before we go and there is always wine. Wine is a crucial element to a fun Friday.
From only being here a short while I can already see the benefits of the fun Fridays. Two weeks after I started we had a fun Friday and I felt so much more comfortable walking into the office on the Monday afterwards than I did on the Friday morning before archery. I just got to know another dimension of the people I work with, one outside of routers and broken monitors. From an employee point of view I also felt a lot more invested into the company, I felt I had completed my initiation into the Lucidican family (one that involved getting arrows thrown at you).
The Annual Strategy Away Day
The first Friday is not the only event which happens like clockwork. The strategic away day, know internally as the SAD – is once a year at the end of our financial year, where we abscond from London for a Saturday day & night to reflect on how the last 12 month has been and how the company has performed. There are individual presentations from everyone in the company, company presentations from the management team and a small awards ceremony at the end of the night. The standard of presentations is ridiculously high, with some people making videos, other performing acapella songs, a couple of raps and a movie trailer stealing the show last year. It is the main event in the Lucidica social calendar! As well as all of this we set targets and goals for the year ahead and make a public commitment to each other improve. See why we do it here-
Buddy System
The buddy system comes in second as my favourite Lucidician event. This is an old-school scheme which helps build relationships on a 1:1 level. Everyone is given a random buddy for the quarter, you have a modest budget to go and do something together once per month. And then feed back to the team on what you have learned about each other. These outings normally consist of going out for lunch together but it is just a great opportunity to get out of the office and talk to someone you might not necessarily speak to.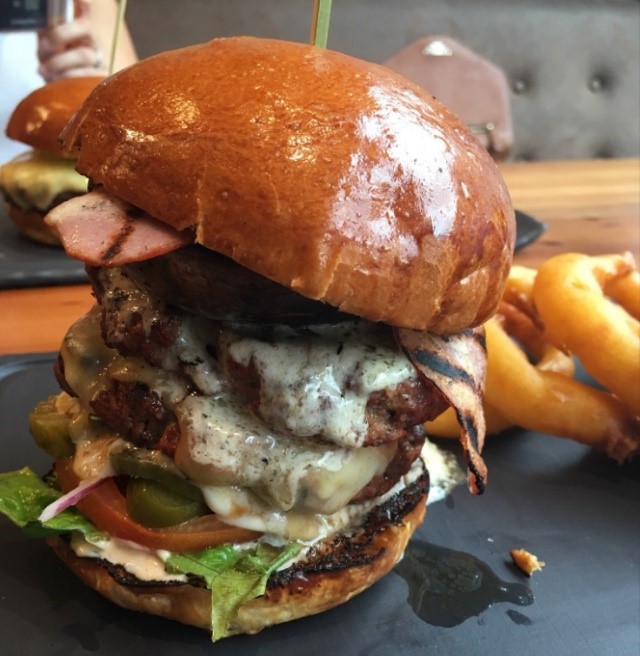 Parties
Finally, we have the themed parties. In-between the nerd (LAN) parties, we have 'normal' parties too. We are all encouraged to bring partners, family & friends. We recently had a Halloween party and in the spring had a Pimms party. These are great, and once your friends/family have been and seen the love within the team first hand, they understand why we spend so much time hanging out together. With all these team events, it could seem slightly odd to an outsider! They're not fancy, there isn't a huge budget. It's just held in our office (which is pretty cool!) but we all rally around together to decorate and make a punch!
I am not saying every company needs to go on a staff event every month but setting up a regular date you can just spend time with your colleagues without the work has been a great benefit to working here. Does your company have a different staff marketing structure or do you have any events you think we should try? Message us!
Lucidica provides London based IT support for businesses