The Skills Show 2015
The Skills Show 2015
The Skills Show 2015, now in its third year, welcomes 73,858 visitors during its three-day run and we did our best to highlight to them all how fulfilling and rewarding a career in IT can be. The show is designed to feature a wide range of hands-on experiences and skills competitions that assist in shaping the future of those who attend.
"Delivering a high-quality, memorable experience is of paramount importance to all those involved in the staging of The Skills Show, and I am confident that 2014's event was our best yet," says Ross Maloney, Chief Executive of Find a Future, which oversees the event as well as the WorldSkills UK Skills Competitions, the finals of which were held at the NEC alongside the Show.
The show exhibits the numerous career possibilities for young people and aims to help shape the future of a new generation. Independent careers advice was available alongside competitions and training information was accessible throughout the event, with advisers placed alongside leading employer brands to inspire and encourage young people on the road to work.
Here at Lucidica we swapped the office for the NEC, to host a stand at the Skills Show to hopefully inspire some budding IT professionals. Armed with geeky glasses to give away and our abundant knowledge on IT apprenticeships, we focused on promoting our new recruitment website 'Geek is the New Sexy.' We wanted to showcase all that Lucidica had to offer and that jobs within the IT sector aren't limited to engineers.
Our brand is Geek is the New Sexy so we wanted to go old school geeky. We had a few ideas for costumes but settled with black bottoms white shirts with extra accessories; a tartan Bow and braces. Ellen and I had pleated skirts and Rob had ankle swingers (trousers that are a bit short and graze the ankles) to give that extra effect. Topped with glasses, we all looked very snazzy.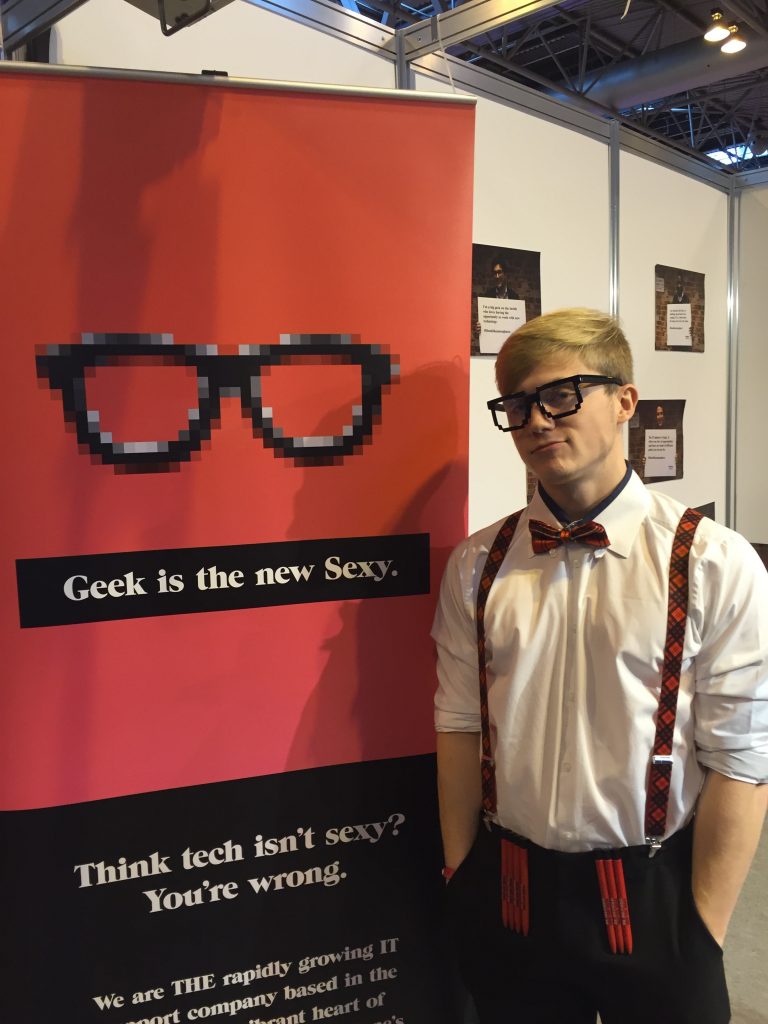 We had very mixed reviews from the crowd, many compliments and many giggles from the kids. Ellen and I even overheard someone say our outfit was an ugly school uniform. Ugly or not many people took pictures and we got a lot of attention.
Going to the skills show, we could not attend empty handed. We knew our target audience, kids in school/college. One thing young people love is freebies. We wanted to give something away that reflected our brand. We found a nice American company who made branded pixelated glasses. Thinking people would find them a bit cheesy 500 pairs were ordered.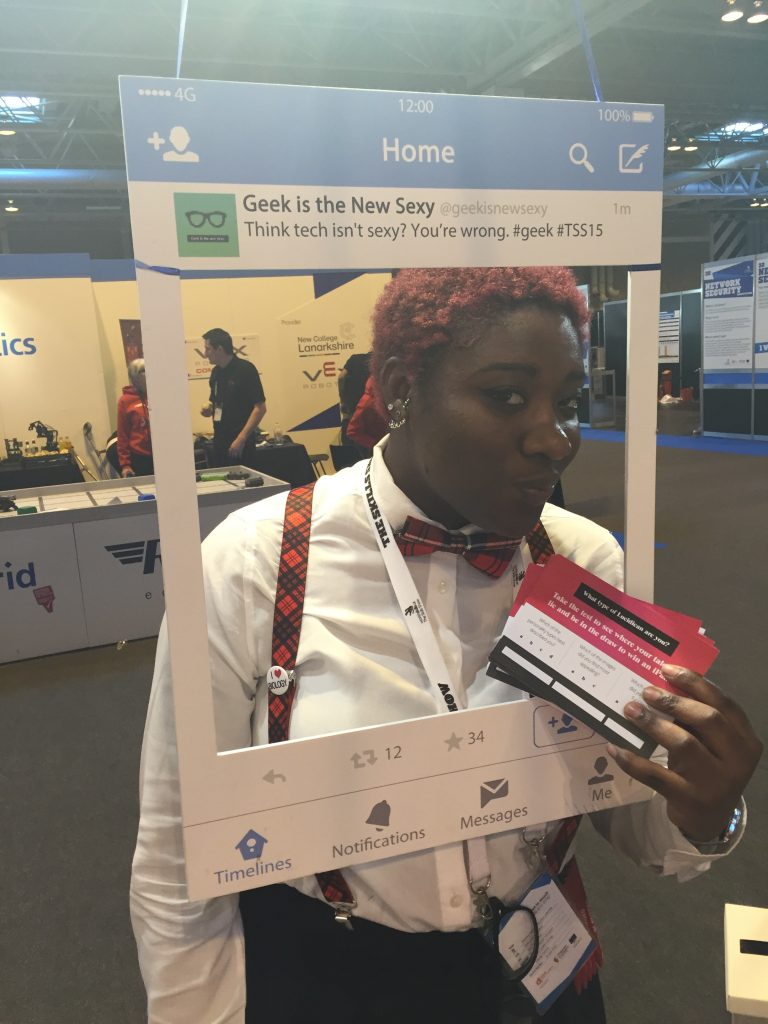 The glasses turned out to be a BIG hit, drumming up a lot of attention from the kids to parents, other stands and even the volunteers. We quickly realised at lunch on the first day that 500 pairs were nowhere near enough so refrained from just giving them away instead only giving to those who showed a real interest in our stand, from then on we were branded as 'the glasses people.' On a few occasions, we came back from lunch and found kids sitting outside our stand waiting for glasses. It's fair to say with our outfits and pixel glasses we were very much talked about at the skills show.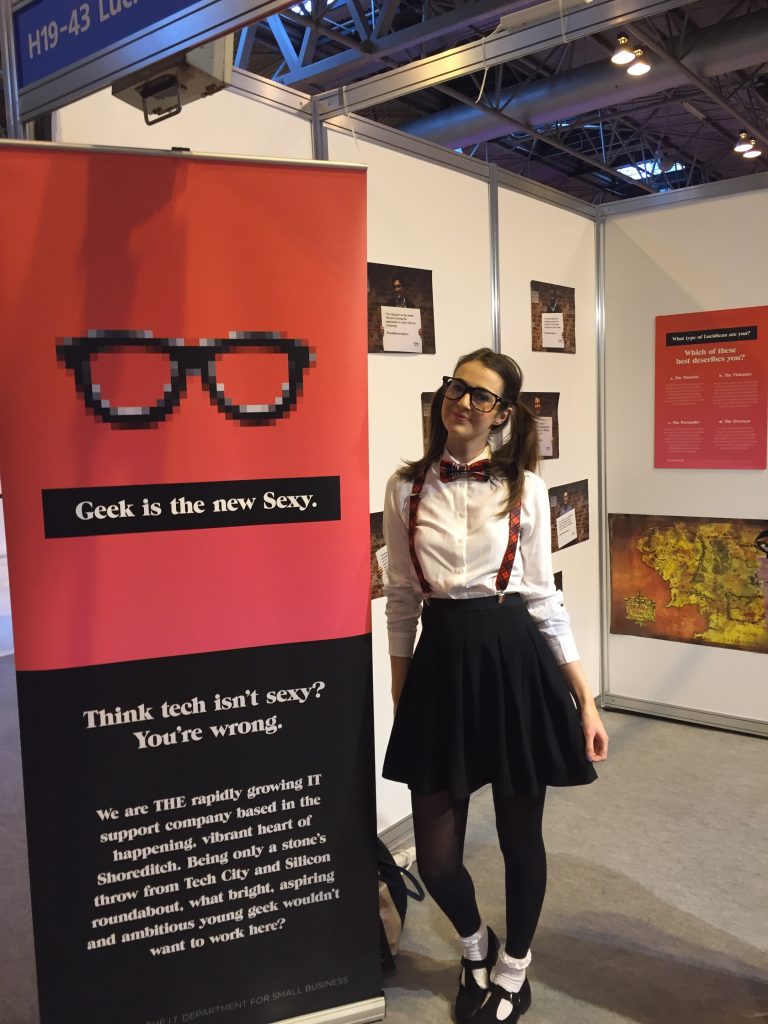 The Skills Show highlights that a university education is not the only option and technical and a professional education are just as valuable. Further education colleges prepare over 3 million people each year with the skills for the workplace through expert teachers, industry-standard facilities and a close on-going relationship with local employers of all sizes. It is important that young people are made aware and encouraged to look into all of the options open to them.
At an early age, I was very driven to start working as soon as I could. I also knew that University wasn't something for me, I was told that I am a Kinaesthetic learner which means my style of learning is more physical which I totally agree with. I still applied to University but in the end, I couldn't go through with it. One thing I definitely knew was that I wanted to work in an office, after college I worked while looking for an apprenticeship. Rejection is not the best but this did not discourage me from my search. Eventually, I found an apprenticeship company who were serious about helping young people to get onto the career ladder, in about 3 weeks of signing up with The London Apprenticeship company I got a job with Lucidica. I have friends struggling at University saying they can't handle it, some even dropping out. My only advice to them is to find an apprenticeship. I don't discourage anyone who says they want to go to University, however simply saying it's not for everyone.