The Secret to Good Links
The Secret to Good Links
What is link building?
Link building is the practice of engineering and building links from one website to another. In the case of a webpage, a link is a reference that a web user can click on directly to follow through to a different webpage
In the context of SEO, per Google's algorithm, every time a user follows a link from one website to another, it acts as a vote in favour of the website the user heads to. This, along with other factors, can influence where the site appears within search engine ranking positions (SERPs).
Every link back to a domain is ranked on its quality, so if you have a large amount of high quality, relevant links back to your site, authority from those sites will be transferred to your own website and your site will more likely to appear higher in the SERPs for relevant keywords. On the other hand, if you have a lot of links from low-quality websites, pointing back to your domain, your site is likely to be penalised and you have less chance of appearing highly within the SERPs
What makes a quality website?
There are a lot of ways in which we can measure the quality of a website, essentially, though, there are three main ways in which Google, and other search engines, measure the quality of a website when considering links: –
Quality of links going into a site
As mentioned previously, the quality of the sites linking back to your site is a key indicator to Google about the quality of your website. If several high-quality websites are linking back to your own site, it tells Google that you are a resource of good quality, worthy of ranking highly for competitive keywords.
Quality of links going out of a site
If your website is linking to a lot of low-quality sites, or is linking out too frequently without good reason, then Google may penalise your site. By linking out to other websites you're essentially allowing the authority to pass through your site to other sites. That's not to say that you shouldn't link out at all, but rather you should only link to other sites when it is relevant and necessary.
Quality of content
The quality of content on a site is also an important indicator for the value of a website. If the content on the site is of poor quality, is not written in good English or is full of keyword spam that does not benefit the user, then Google will most likely penalise your site. In 2011 Google implemented an update known as Panda, designed to stop websites with poor quality content from ranking highly within the SERPs.
When looking to build links back to your website, you should always consider these three factors before trying to build a link.
Measurement Tools
Most SEO tools utilise points one and two, along with other factors, to determine the quality of a website into an overall score. By using these tools, we can get an overview of the quality of a website in order to determine whether or not it is worth attempting to build links from it.
Majestic SEO
Majestic SEO is a tool that allows you to gauge the overall quality of a site. It measures the quality of links going in and out of a site and scoring these two metrics separately via Trust Flow and Citation Flow. This data is from is gathered from Majestic's own search engine which crawls the web and details sites linking to one another. From this data they can determine the strength of a website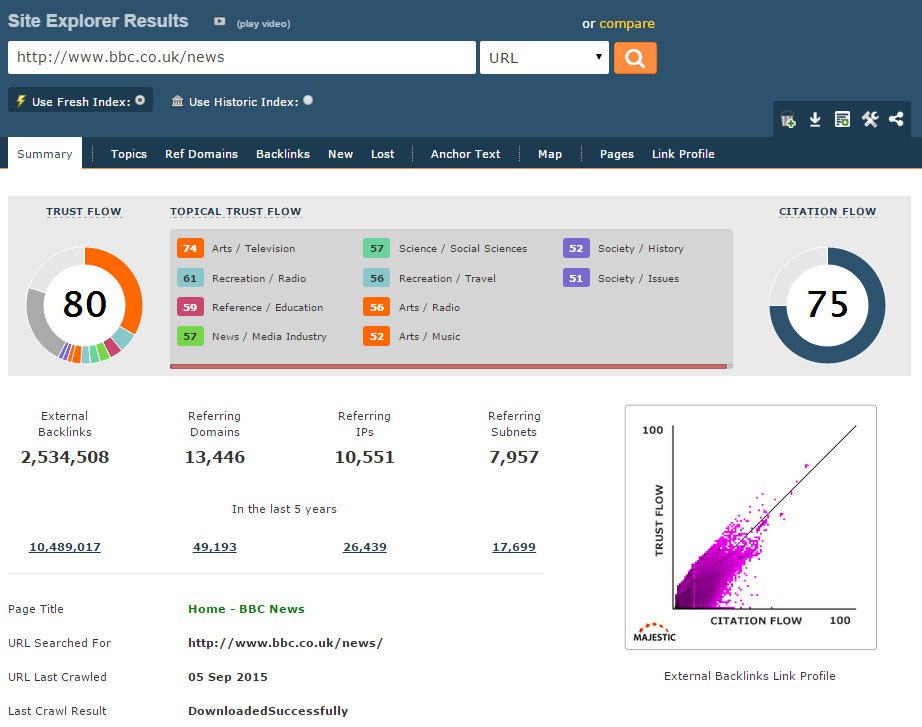 Trust Flow – score out of 100 predicting how trustworthy a URL might be based on the number of sites linking to that URL
Citation Flow – score out of 100 predicting how influential a site is depending on the number of sites linking to that URL.
Open Site Explorer – Domain Authority
Open Site Explorer is a tool developed by Moz (www.moz.com) is seen as one of the most complete tools to determine the quality of a website in terms of how well a site will rank within search engines. Formed in 2004, Moz is seen as one of the most authoritative sources of information on SEO on the web and has formed its own measurement tools and metrics in order to help other SEO companies and businesses better understand rankings factors and SEO in general.
One of the key metrics measured by this tool is Domain Authority. Domain Authority is measured out of 100 and a gives a summary of several other measurements including link root domains, the number of links heading to the website, MozRank and others. You can find out more about how Domain Authority is formed, here. You can check the domain authority by using the Mozbar (available for Chrome and Firefox browsers) which is available here https://moz.com/tools/seo-toolbar or the Moz Open Site Explorer tool which can be found here https://moz.com/researchtools/ose/
Determining the quality of a site is the first step in helping to build links towards your site. Once you can measure the quality of a site based on the state of links going in and out of the site, as well as identifying spam free, relevant and useful content, you can start to build up a list of potential link building targets.
Lucidica provides London based IT support for businesses