Repair Windows 10: How to Repair Corrupted Windows 10 System Files
Repair Windows 10: How to Repair Corrupted Windows 10 System Files
Ever been power typing on your keyboard with 100 tabs up on google, trying to get a really important piece of work finished and this horrific blue screen pops up? The immediate reaction for many is 'why on earth did I not save that file' or 'please please please can this not be due to a corrupt file.' If it is the latter, we know how you feel and are here to tell you how to fix it.
Windows, aware of this problem, have built a System File Checker in their latest update of Windows 10. This checker scans your system files, alerting you where there is corruption or any other changes. Windows will then go on to replace any files that have been modified or corrupted with the correct and original version of this file. If, however, the System File Checker fails to replace your file there is a second option. This option is the DISM command. DISM stands for Deployment Image and Servicing management. This Windows tool fixes the component corruption which prevents the System File Checker from working properly.
When should I use these options?
Use the System File Checker or DISM when;
The Windows blue screen (as shown above) is displayed
Applications are crashing
Certain Windows applications aren't working correctly.
To see how to fix this issue, either watch the video or read the instructions below:
What option should I use first?
Use the System File Checker command first as it will solve the most common problems. However, if it does not fix the problem it will then eliminate the possibility of your system files being corrupted and will allow you to use other methods.
If that doesn't work the second option should always be the DISM command. The DISM option is second as these problems are less common. However, problems associated with the System File Checker are also associated with DISM. So if they can't be fixed by the File Checker it is likely that the DISM can fix the underlying system, allowing the checker to then run correctly.
Okay, Great. But how do I run the System File Checker!?
To start the process, you will need to be in the Administrator Command Prompt window. To do this, right-click on the Windows/Start button in the bottom left corner of your screen. Then click Command Prompt (Admin).'
Then type in sfc/scannow and press Enter to run the application. This needs to be left for around 5-10 minutes to run correctly and outline any issues. If there are no issues the message 'Windows Resource Protection did not find any integrity violations' will appear.
sfc/scannow
However, if the message Windows Resource Protection found corrupt files but was unable to fix some of them' then the application has found the issue. This means that your computer or laptop needs to be rebooted in safe mode. To do this hold the shift key while clicking the restart option– this will give you the advanced boot options menu. Once the computer has restarted, repeat the steps above to run the System File Checker and the first message should appear stating that no 'integrity violations' were found.
If this doesn't work it is time to use the DISM Command
Open the Command Prompt (Administrator) window as seen above. But instead of typing in sfc/scannow' type in 'DISM /Online /Cleanup-Image /RestoreHealth'
DISM /Online /Cleanup-Image /RestoreHealth
Again, this will take 5-10 minutes. The progress bar initially may be slow, but do not cancel the command. A message will then appear outlining if a change has been made. If a change has been made, restart your computer and run the System File Checker command and hopefully it should now replace any corrupt files.
System Restore/Reset
If all the steps above haven't helped running the system restore tool will restore your operating system files to a previous state, a time where the files were not corrupt.
To do this click on the Start/Windows button in the bottom left of the screen. Type in System Restore in the search bar and click create a restore point.' Then in the system properties pop up click on the System Restore button. Enable the turn on the system protection' button and move the Max Usage slider to around 5-10%. This will determine how much of your hard drive to use in restoring. Then press apply.
Alternatively, you can reset your system or reinstall Windows. This will remove apps and settings, but keep your personal files if you wish. To do this you click on Settings > Update & Security > Recovery (left pane) > Get Started. You then have to decide whether you want to 'Keep My Files' or 'Remove Everything' depending on whether you want to keep your data files on your computer.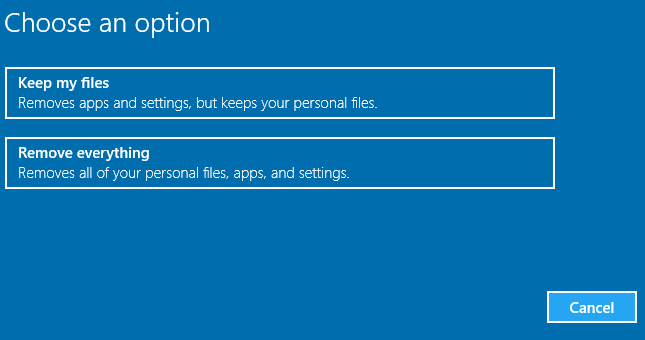 Remove everything will take a longer time and if you then click 'Remove files and clean the drive' it will make recovering removed files a lot harder. (This is good when you are selling or giving away your computer). Then click Next > Reset > Continue. This should reset Windows back to its basic state and remove any corruption.
If you're encountering specific error messages check out Microsoft's page on Windows 10 errors.
Hope this helps!