How to Connect your Printer through AirPrint
How to Connect your Printer through AirPrint
Lucidica is the IT support team for London businesses.
Thanks for viewing this page, hopefully it helps you solve your technical issue if not feel free to drop us a line here and we'll provide additional help and support.
A world without tangled wires connecting to several devices all muddled and tied up is a world I want to live in. Every time I want to move a device on my desk it involves me sitting down and slowly untangling wire after wire, hoping I don't pull out the wrong one at the wrong time. Even with a device as simple as a printer, sometimes I can't find the connecting lead or it takes at least three goes for the connection to work. Apple understood this problem and wanted to find their own solution, with that they created AirPrint.
What is AirPrint
Released in 2010, AirPrint is a mobile printing solution. It uses Apple iOS mobile operating systems to work. This then enables iPad, iPhone, iPod and Macbook users to print wirelessly to an AirPrint compatible printer and all through the wireless network.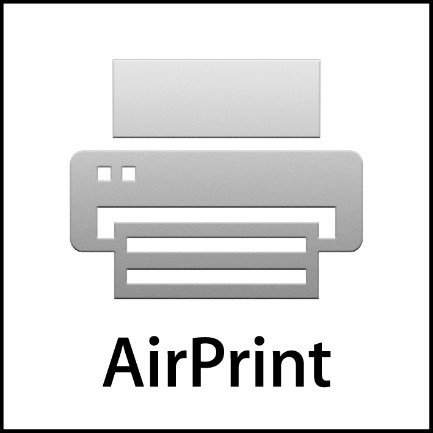 How do I get it?
Many printers from a selection of companies sell AirPrint compatible printers. This includes five different types of HP printers but also a selection of Samsung, Xerox, Canon and Brother models. However, if you already have a relatively new printer (with Bluetooth) but it is not AirPrint compatible there are a couple of ways you can make it compatible.
Change the Printer using HandyPrint
You can do this by downloading the App on to your device(s), including a Macbook. You install it like any other App and once the application is switched on it should turn any printer that you have already within your printer sharing center into an AirPrint printer. To check if it is in your Printer Sharing center simply click System Preferences > Sharing > Printer Sharing.
Use an AirPort extreme base station
You can also buy a base station which has the AirPrint technology built in. To set this up, connect this base station to your printer via the USB port and turn it on. This should then allow a non-AirPrint printer to connect to your Wi-Fi network and print from Apple devices.
How do I connect
To use AirPrint you need an Apple device that is an iPhone 4 or more and at least a third generation iPod. Then you need to check that your AirPrint printer is on and is connected to the Wi-Fi. If the printer does not appear as online, it will most probably be from poor connection and the Wi-Fi may need restarting.
How do I print
Open the App you want to print from. This could be anything from Safari to photos it just needs to have the sharing icon present on the page.
Click the sharing icon> Printer Icon > click the name of your AirPrint enabled printer > edit the number of copies > click print.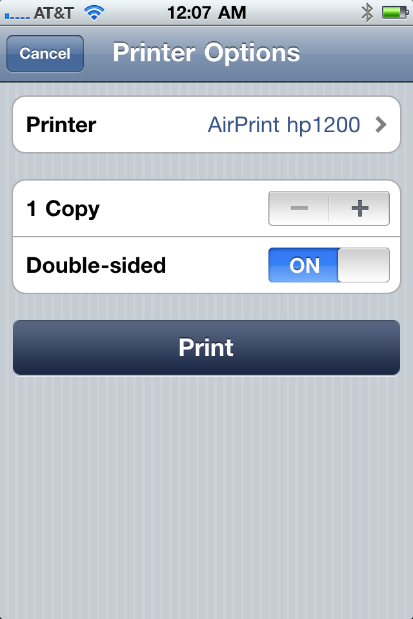 How do I cancel or view print jobs?
You can view and cancel your print jobs any time after you have printed an item. To do so simply double click on the home button to gain access to the App Switcher. When the App Switcher is open swipe along to find the Print Centre app. Within this app it will display all the photos and documents you have printed within the print center. If you click on a random document it will tell you what printer your printed your photo from, how many copies were printed, what size, what time and what the status of the print is. If the item is still in the progress of being printed and you wanted to cancel it, all you have to do is simply press 'cancel printing' in big red letters at the bottom of the print summary.