OneDrive vs Google Drive
OneDrive vs Google Drive
Storage space is an unquestionable necessity for businesses these days, no matter what size you are. There are a bunch of cloud service providers out there but two of the biggest cloud storage names that you're already acquainted with are: OneDrive and Google Drive.
Both provide strong platform support, device sync, file sharing capabilities and facilitate productivity and collaboration.
But how do you know which is the best storage for you?
First, a background check:
OneDrive
Formerly known as 'SkyDrive' was launched in 2014. With a Microsoft account, 5GB of storage is provided and you can get 50GB by upgrading to OneDrive basic for a small monthly fee. However, an Office 365 holder has access to 1TB of storage. OneDrive lets you store any file type and organises them for you by file type.
Google Drive
Launched in 2012, free 15GB to use provided that you have a Gmail account but does offer more storage ranging from 100-Gb- 30TB with a monthly fee. You can use Google Drive to store any type of file, share files with others and use the Google Drive suites to edit any documents.
Storage and Pricing: A break down

Just a quick summary of the storage compared to the prices given. If you're looking for the (free) most storage with minimal effort, Google drive is the way forward. Google also offers up to 30TB for £239.99. However, if you're an office subscriber, its worth going for OneDrive, especially if you have been subscribed to the Business Plan as there are more benefits included within.
Compatibility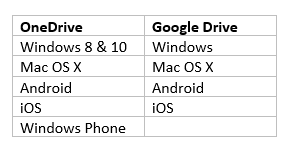 OneDrive is already integrated with Microsoft office (of course) and its built into Windows 8 and 10. Both are competent programs, the only difference you can see it that Google Drive is incompatible with a windows phone.
Accessibility
Google Drive can be accessed via web browser, desktop app and mobile app.
Microsoft works with multiple platforms, it's almost like an Apples iCloud. This means that it's great for the Microsoft network but still useful for everyone else. OneDrive can be accessed via web app, desktop app and mobile app.
File Syncing
Google Drive
When you're logged in:
– You can upload individual's files of up to 5TB per file.
– Create File Folders to organise your files.
– Create new files using Google Docs, sheets, slides, forms and Google Drawings.
From your Desktop:
– You can drag and drop files into the linked folder on your desktop to sync them with your account on cloud.
– You can access the same files on any other device with the app installed or via web browser.
Using Gmail:
– Google Drive lets you attach and save attachments directly through drive.
– Any files or folders can be shared through email invite or a link and you can invite others to collaborate on a document or file.
Google Photos:
– A great place to keep your photos on Google Drive if you want to have a quick search through them. The photos are automatically organised by where you took them and who's in the photos.
Whilst Google mail offers the most free storage, it's shared across Photos, Documents and Gmail.
OneDrive
When you're logged in wherever:
– You can upload files or folders of up to 10GB in size which is automatically sorted.
– Your files can be accessed anywhere including Xbox 360 or Xbox one.
– You can attach files in Cloud to emails.
– Automatically organizes your photos into galleries based on location and date.
– You can add captions, tags and post gallery straight to Facebook.
Microsoft office is completely unified with OneDrive which makes sharing documents, spreadsheets and slideshows easy. This also allows real time collaboration for Office 365 subscribers. Like Google Drive, you can share files via email invite or link.
Security
Security is the number one concern when it comes to any activity being done online, that is why both platforms use SSL encryption to secure your files in transit and offer two-step verification to prevent unauthorised access.
However, this is how far as security goes for you files, but there are some things you can do for yourself to keep secure, such as auditing connected devices and services.
The Verdict
Ultimately, the difference between these two platforms aren't much at all. They offer some unique features but both work just as well as the other. In order to get the very best cloud storage for your needs, well that's really down to your business. For example, Larger to Medium business may well benefit from OneDrive and Microsoft Business plan itself, whilst Smaller business may be well content with Google Drive.
On another note, if you've already subscribed to or purchased Microsoft 365 products, then its logical to go with OneDrive since you've already invested into Microsoft anyway. Plus, the Business or personal tiers level plans being offered by Microsoft could greatly benefit your business.
On a beneficial note..
Lucidica offers BOTH Office 365 AND Google Suite at considerable discounted prices from the standard online Google and Microsoft price. So if you need further assistance with either platform, please feel free to contact us, let us know you've read the blog and we can set you up and get you saving!